Tabletop
Tabletop Gaming News and Information.
This is a Video on playing D&D and providing live streaming or recorded sessions.
Celebrity D&D watch, learn, and listen to how pulling in your love for being in character
and doing real Role Play makes it so much fun by watching real actors who love D&D.
Video found on Youtube you can go directly to location by right clicking on video to go to
the channel page.
By GameMaster of 4 Gamerz By Gamerz
---
Longsword Interview with Daniel DiCicco
POSTED BY: PETER PARRISH JUNE 26, 2017
StarDrive creator Daniel DiCicco is turning his hand to tabletop tactics and virtual miniature collection with Longsword. To find out more about the game, and its ongoing Kickstarter campaign to raise $20,000 USD, we sent over some questions. Read on for DiCicco's innovative ideas for Steamworks integration, how he intends to balance the online matches, and future plans for the title that expand beyond this initial Kickstarter drive.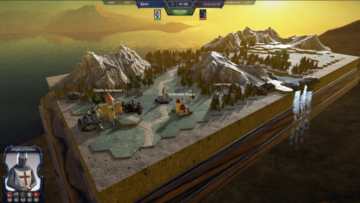 PC Invasion: The Kickstarter page pretty thoroughly explains what Longsword will be, but for those reading about it for the first time here could you provide the synopsis?
Daniel DiCicco: Longsword is a game of digital tabletop miniatures featuring turn-based combat on a "tabletop" made out of hex tiles. In essence, it's the board game Heroscape brought to life on PC but with a more mature ruleset. The game is built around the aesthetic of tabletop gaming, allowing you to "paint" your miniatures, rebase them on custom unit bases, built gaming tables, and collect an army.
PCI: You talk in the Kickstarter video about enjoying plenty of physical tabletop tactics games, do you have any particular favourites from which Longsword's rule set will draw inspiration?
DD: Beyond Heroscape, I am heavily influenced by games where characters use Action Points to move and to activate skills and attacks. This forms the basis of our ruleset, and then we layer on content with hundreds of skills and emergent interactions.

Full Article is located here…
0 Comments
ON "

Tabletop

"
© 2018 All Rights Reserved
4 Gamerz By Gamerz
| Designed, Managed, Powered By, Founded and Owned by
Visual Creative Designs